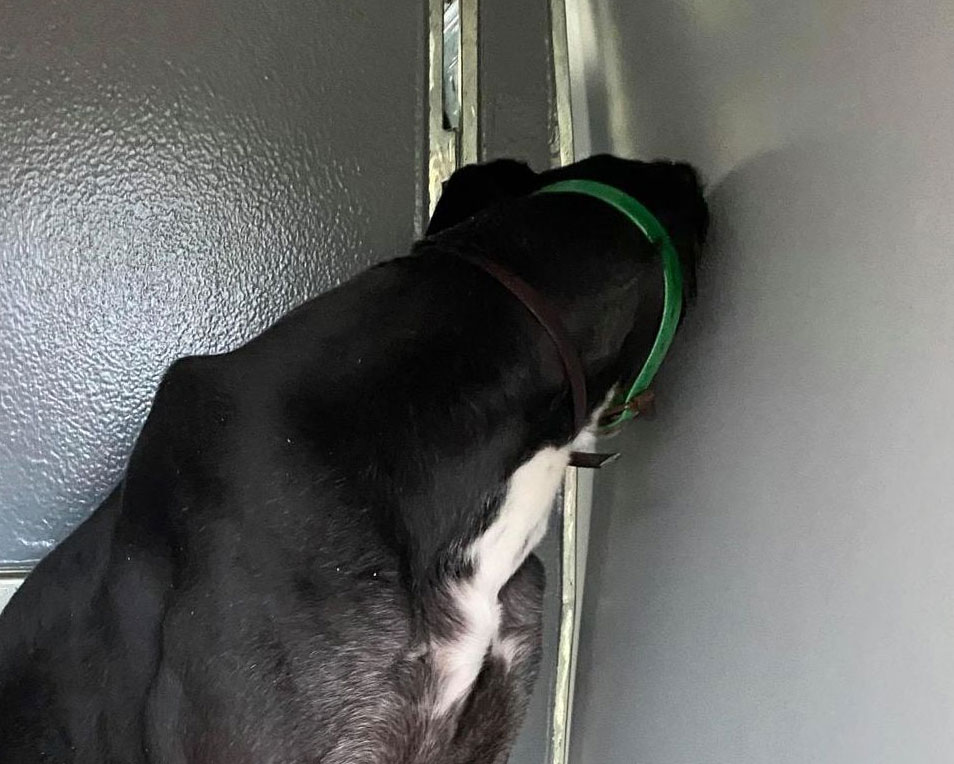 Please help stop the suffering of greyhounds in the racing industry by writing to your MP asking them to support our petition calling for a ban on greyhound racing, which is currently awaiting debate.
Please use the letter below.
If you have a greyhound, you may wish to add his/her photo and include a few lines about him/her.
Find your MP's contact details on the parliament website
Download below in Word(.doc) or OpenOffice (.odt) or copy the text
Dear
 
As my constituency MP I am contacting you to request that you consider the information below and add your support to the parliamentary debate on phasing out greyhound racing, scheduled for Monday 28th March 2022. This follows a government petition to ban greyhound racing which secured 104,884 signatures from the general public last year.
 
The workings of the greyhound racing industry can be complex, so to help you understand why I and so many of the public want this cruel industry to end, may I help by sharing with you the following facts?
 
1. On average 14 greyhounds suffer serious injuries every day while racing, resulting in at least 9 fatalities each week Source: Greyhound Board Great Britain 2018-19 Welfare Care Injury and Retirement Data https://gbgb-prod-assets.s3.eu-west-1.amazonaws.com/wp-content/uploads/2020/06/30075420/GBGB-2019-Injury-and-Retirement.pdf
 
 
2. Running repetitively on dangerously configured tracks causes the majority of these injuries, which are rarely seen in other breeds of dogs: '68% of injuries and 75% of fatalities occurred from accidents at or approaching the first bend when congestion is often at a maximum'
Source: Professor Andrew Knight – Injuries in Racing Greyhounds https://greytexploitations.com/wp-content/uploads/2018/11/Injuries-in-Racing-Greyhounds-by-AK.pdf
No amount of money or regulations can significantly decrease the injuries or track fatalities.
 
3. At least 80% of greyhounds racing on British tracks are bred in the Republic of Ireland. Ireland's most recent figures show that 6,000 greyhounds are destroyed each year and the UK greyhound racing industry directly contributes to this situation. Source: Preferred Results Report 2017 https://www.grireland.ie/globalassets/talking-dogs/pr/preferred-results---igb-organisation-restructuring-report---pages-1---65-compressed.pdf
 
4. Every year around 7,500 greyhounds are registered to race. Once considered of no use - often at 2-3 years old - due to injury, being too slow or too old, these dogs are discarded. Token payments by the racing industry do not meet the true costs of rehoming. It is the public purse that makes up the shortfall.
 
5. In 2019 4,970 greyhounds suffered injuries and 710 greyhounds died…
https://gbgb-prod-assets.s3.eu-west-1.amazonaws.com/wp-content/uploads/2020/06/30075420/GBGB-2019-Injury-and-Retirement.pdf
 
I think greyhounds deserve better than this and so do over 104,884 people, who want to see the phasing out of greyhound racing here in the UK.
The public want greyhounds to be protected consistently from pain, suffering, injury and disease - i.e. to enjoy the same protections granted by law to any other breed of dog by the Animal Welfare Act 2006, Section 9. Source: https://www.legislation.gov.uk/ukpga/2006/45/section/9
 
Is this too much to ask?
The industry has the finances and the rehoming structures to secure the welfare of every greyhound if racing were to be phased out, but for that to happen we need elected representatives like yourself to lead the way.
 
Please reassure me that you too care about our greyhounds, that you support a phased end to this cruel industry and will attend the debate on 28th March 2022.
 
Thank you.
 
Regards
 
Your name, email and address


Following up
Thank you to everyone that has contacted their MP, please email/message us your replies.
For those that have received a reply from their MP that failed to address all our concerns regarding injuries here is a follow-up email that you can send.
We are aware there is a standard reply from most Labour MPs that makes no mention of injuries.
Dear …

Thank you for taking the time to reply to my recent letter.

You may recall that in the letter I asked you to consider fully the facts I provided, and for your support in the forthcoming debate in Parliament resulting from a petition aiming to bring to an end the suffering of greyhounds in the racing industry, signed by over 104,000 people. This debate is now scheduled for Monday 28th March 2022.

You stated in your reply that greyhounds are afforded adequate protection by:
- The Animal Welfare Act (2006)

- Recommendations resulting from the 2016 Review of the Welfare of Racing Greyhounds Regulations 2010 (many of which remain unmet including kennelling standards)

- Via the increase to a voluntary levy / or the introduction of a statutory levy

I would ask you to please consider the following:

The self regulating billion pound dog racing industry does not enforce the Animal Welfare Act - it only enforces the Rules of Racing through internal Disciplinary Hearings which are predisposed to ensure the betting integrity.

There are almost 5,000 injuries every year, resulting in over 270 deaths and lifelong pain to greyhounds, often as young as 16 months old. As a consequence, these dogs may have to be prematurely euthanized due to poor quality of life. These injuries are specific to greyhounds racing on oval tracks and are rarely seen in other breeds, because the pressures repetitively experienced on the left side of the lower legs from running on the bends destroys the structural integrity of the bones and the musculoskeletal system. There is a difference between running free in a field or beach and running on an oval track, which is not a natural running pattern. Are greyhounds not dogs too? Then why does section 9 of the Animal Welfare Act 2006 not apply to them, and to their 'need to be protected from pain, suffering, injury and disease'?

Once again I would urge you to look at Professor Knight's report - which reviews 40 years' worth of veterinary articles - on the injuries seen in greyhounds and how they are caused by racing. The racing industry has had 40 years to address all these problems, and has been unable to do so.

https://greytexploitations.com/wp-content/uploads/2018/11/Injuries-in-Racing-Greyhounds-by-AK.pdf

The GBGB injury scheme attempts to address the veterinary treatment of injured greyhounds and lessen the number of greyhounds destroyed, but nothing can significantly reduce the injuries including fatal ones, or the number of greyhounds that suffer life-long problems caused by racing.

In addition to injuries, self regulation by the industry, overbreeding with consequent surplus of dogs to be homed and lack of independent scrutiny into kennelling standards continue to result in much suffering, with dogs sometimes being kept in appalling conditions - as exposed here and in numerous other media reports:

https://news.sky.com/story/claw-marks-and-faeces-inside-kennel-housing-70-greyhounds-11555707

The best 'efforts' in the world such as improving kennelling, rehoming levels and welfare standards do not address the fact that every day dogs race on dangerously configured tracks, dogs sustain unnecessary injuries and dogs die.

With these facts to hand, I would ask you as my MP to please reconsider your response and if possible, attend the debate in support of a ban.

Thank you.

Yours sincerely,