The first greyhound race track in Ireland was opened on 18th April 1927 in Belfast, followed shortly thereafter by a second track at Shelbourne Park in Dublin.
Currently there are 14 greyhound tracks in Southern Ireland – Galway, Dublin, Dundalk, Enniscorthy, Kilkenny, Mullingar, Newbridge, Clonmel, Cork, Limerick, Thurles, Tralee, Waterford and Youghal. In 2019 two further tracks were shut down, Lifford and Longford.
These all are under the control of Bord na gCon which was renamed Rásaíocht Con Éireann (RCE) (Greyhound Racing Ireland) in 2020. https://en.wikipedia.org/wiki/Greyhound_Racing_Ireland

In Northern Ireland there are two further greyhound tracks – Drumbo and Derry. However these tracks are under the control of the Irish Coursing Club (ICC).
https://en.wikipedia.org/wiki/Irish_Coursing_Club

Greyhound Racing Ireland is a commercial semi-state body charged with regulating and promoting greyhound racing in Ireland since its founding in July 1958. It reports to the Department of Agriculture, Food and the Marine.

Since 2001 the Irish government has granted €273 million to the greyhound racing industry.
Some of this funding is taken from a levy on all gambling in Ireland, which has been ring-fenced for the industry.
https://banbloodsports.wordpress.com/2020/08/01/e1-365-billion-irish-government-grants-to-horse-and-greyhound-racing/
In 2020 the amount granted was €16.8m. Without this funding the greyhound racing industry would be 'goosed' as claimed by one Irish politician in 2019.
https://www.irishexaminer.com/news/arid-30951839.html

Despite very generous funding from the Irish taxpayer, attendances at greyhound tracks have been in freefall and this trend has continued forward.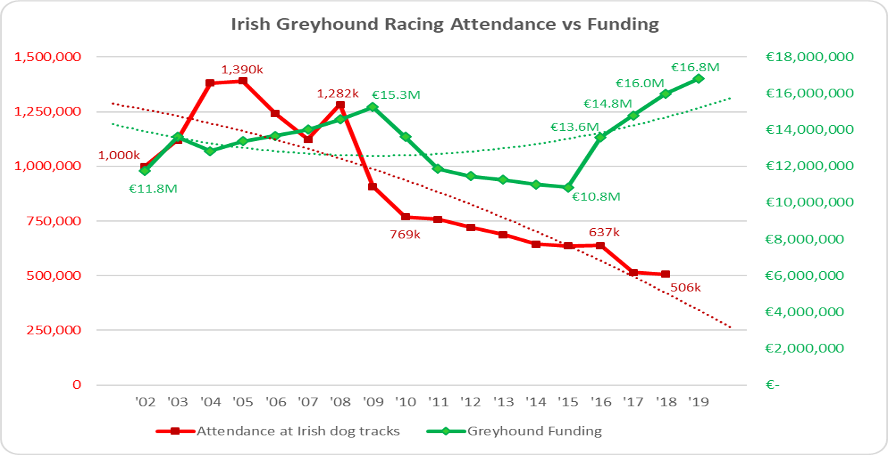 Greyhound racing in Ireland is an industry imbued with controversy.
But perhaps a pivotal moment in Irish greyhound racing occurred on 26 June 2019 when one of the country's mainstream TV stations broadcast a programme named RTÉ Investigates: Greyhounds Running for Their Lives. https://www.youtube.com/watch?v=ZYTb2qBjlMM
The programme revealed many of the industry's harsh realities but the most shocking information was laid bare through the publication of the Preferred Results Report which had been commissioned by the industry in 2017 at a cost of €115,000 but hidden even from the Department of Agriculture and the Irish Government. On page 26 of the report it was stated that an annual average of almost six thousand greyhounds were killed because they were no longer of use to the industry.
https://www.grireland.ie/globalassets/talking-dogs/pr/preferred-results—igb-organisation-restructuring-report—pages-1—65-compressed.pdf

The final scene of the programme was the most heart-wrenching. Nobody could have prepared for this horrendous scene when a beautiful innocent but unwanted greyhound defecated themselves in fear as they were dragged off into the knackery to be shot in the back of the head while the owner waited in his van for the dog's collar and lead.
https://www.youtube.com/watch?v=ng6DJCSX1xI

However, in addition to the greyhounds culled by the industry due to their unsuitableness or lack of profitability, we must add to those figures, the number of greyhounds killed at Irish tracks.
These figures have been published following requests for information to the Department of Agriculture.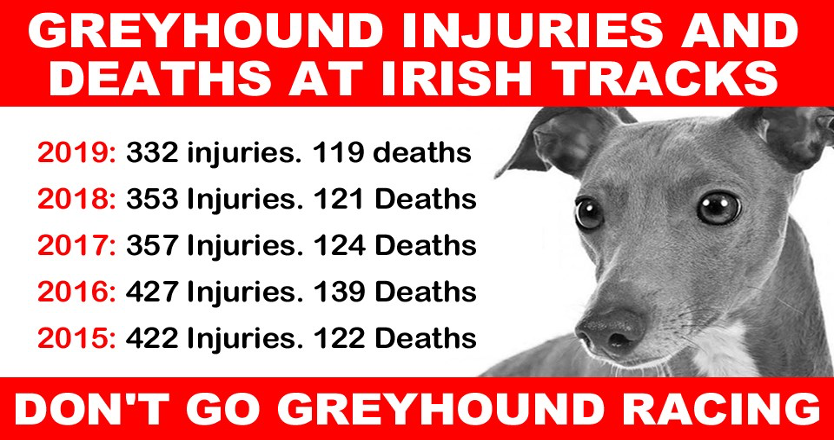 Years earlier the man 'credited with building the Irish greyhound industry' said that it was okay to kill thousands of greyhounds. During an interview on Cork's 96FM (3rd May 2017), Paschal Taggart, a former chairman of the Irish Greyhound Board, was asked "Do you believe it's okay for thousands of dogs to be killed in the name of entertainment?"
"I absolutely do," was Taggart's appalling response. He stated: "Most of them [the dogs] are kept alive – sorry, some of them are kept alive – and there are ones at the end of their time – they're injured or that – I do [believe it's okay to kill them]." https://www.facebook.com/463547953760768/videos/1429782737137280/


In 2017 the world was shocked to hear that a greyhound named 'Clonbrien Hero' tested positive for cocaine thrice during The Laurels competition at Curaheen track in Cork.
The greyhound had won the heats final.
https://www.washingtonpost.com/news/early-lead/wp/2017/09/14/championship-irish-greyhound-tests-positive-for-cocaine/
In 2020 the industry's Control Committee declared that the trainer of 'Clonbrien Hero' had 'no case to answer' which resulted in the 1st prize of €30,000 being paid out to the dog's owner/trainer.
https://www.grireland.ie/globalassets/rescource-centre/reports/control/february—2020.pdf

The Irish greyhound industry has always been dogged by issues of greyhounds testing positive for banned and prohibited illegal substances such as methamphetamine, steroids, cocaine etc. Here is a short excerpt from an investigative programme on the issue.
https://www.youtube.com/watch?v=hW5GZC8y3zg
According to the industry's reports approximately 6% of starting greyhounds at races are tested for drugs, therefore at least 94% of starters are NOT tested. Because of the issues with greyhound drugging, the Greyhound Board of Great Britain (GBGB) mandated that as of 1st Jan 2107, all greyhounds from Ireland who present for competition in the UK must first provide a negative test for drugs.

Greyhound welfare is the top priority for owners of rescued greyhounds all over the world. However, the word 'welfare' does not appear in the Irish greyhound industry's Mission Statement. The industry has a term for their unwanted dogs – 'wastage'. The industry has a rehoming department but it rehomes less than one thousand greyhounds per year, mainly outside Ireland. Yet in 2019 there were 2324 litters registered, so almost 14,000 individual pups (using an average of 6 pups per litter).
Approximately 6,000 Irish greyhounds a year are registered to race in the UK. It is estimated that 83% of the racing greyhounds in the UK are of Irish origin.

The recent increased awareness about racing greyhounds has led to the Irish public realising that rescued greyhounds make wonderful pets and there has been a huge increase in the number of greyhound adoptions in Ireland. This has also resulted in more people realising that greyhounds deserve to be treated as sentient creatures not as a commodity, and perhaps this is the tipping point where the public objects to the Irish government's funding of the racing industry and decide that allowing the industry to self regulate will never prevent the exploitation of racing greyhounds.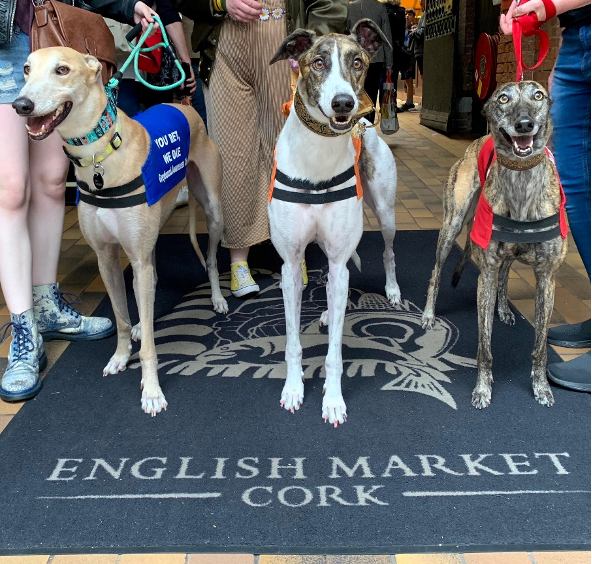 For further information on greyhound racing in Ireland, please use the following resources.

https://files.grey2kusa.org/pdf/REWARDING-CRUELTY-Greyhound-Racing-in-Ireland.pdf
https://www.facebook.com/IGS-Irish-Greyhound-Spotlight-900980066582339
https://www.facebook.com/banbloodsports/
https://www.facebook.com/GreyhoundAwarenessCork/